In 2004 InterChange started out as an idea: a desired to connect and help support community-based peacebuilders around the world.
We now have a thriving network with strength in three continents.  In addition to developing a name, vision, mission, and principles, establishing a board, putting in place structural infrastructure and developing our first strategic plan in 2008  here are some of the achievements that we've seen:
InterChange's inaugural symposium was held June 9-12, 2005, in Toronto, Canada.  This event brought together more than 40 participants who represented 13 countries.  Participants focused on case studies, training issues, and challenges of working in and rebuilding communities in conflict.  The symposium ended with an action planning session that sowed the seeds for the development of an ongoing network of peacebuilders.
In November 2007 InterChange partnered with PHARP Rwanda to host Community-Based Peacebuilding Acrsoss Borders and Boundaries in Kigali, Rwanda.  This symposium focused on the themes of Diaspora Dialogues and Cultural Approaches to Peacebuilding and attracted 55 participants from different geographic locations, cultural contexts, and experiences.  The group explored how community-based peacebuilding theory and practice could inform and build upon one another.  Participants compared practices and discussed how to collaborate on projects and share capacities.  Peacebuilders then developed collaborative projects that they wanted to advance.  Many of these are now moving forward.
We have established local centres in several parts of the world; relationships between our members have deepened; and we have seen the continuing evolution of a different kind of organization based on our shared common values, principles and sense of community.
In 2008, around the date the UN International Day of Peace (September 21), InterChange centres in Uganda, Tanzania, and Canada held meetings to strengthen the participation of members and to celebrate the international network.
Uganda's event was held at the Rhomu Care College Namilyang in Kigali and brought together youth, religious leaders, local and central government decision-makers, the media, and peace activists from across the country.  The meeting closed with the planting of peace trees.  The school peace club, which was profiled at the event, will care for the trees.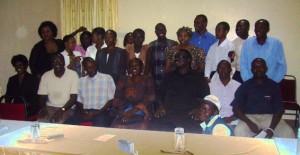 Tanzania's local event
Tanzania's meeting was held in Dar es Salaam.  Participants expressed enthusiasm for InterChange as a forum through which peacebuilders could network, exchange experiences, and enhance a sense of belonging without regard to cultural or national boundaries.
Canada's event was held on September 20 in Toronto.  InterChange members were invited to join project workgroups and the group created a foundation for forming an active centre in Toronto where members could share skills, work on InterChange projects, discuss topics of mutual interest, and build relationships among one another.
Here are some of Anne Goodman's papers regarding the founding of InterChange: