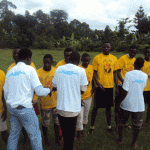 A section of sudanese students studying in Uganda have called upon all stakeholders to be tolerant if we are to achieve total peace in communities.
Speaking on behalf of sudanese students studying in Uganda, James Zoal Pekhoa, who is a student of Internations relations and Diplomacy at Cavendish University Uganda, said that there is need for tolerance in the world since war can not usher in peace.
This year's International Day of Tolerance was celebrated Nov 16, 2011, at Lutengo, Nama subcounty in Mukono District.  The celebrations were organised by the InterChange Uganda Chapter.
Asked after the celebrations about tolerance and the celebrations, which had been initially marred by rain, the students in unison said, "We are in search of peace because our country had for long been subjected to war due to lack of tolerance."
Zoal Pekhoa, however, urged Ugandans in particular and regional states in general to help their newly created state of south sudan achieve peace. He lauded Ugandans for being tolerant to the Sudanese during the turbulent period their country went through.
Prior to the day's speeches, a football match was played to symbolize tolerance and unity in diversity.  The chairman of the area, Moses Kasasira, who was the chief guest during the celebrations, urged the youth to always be patriotic and tolerant because this is what every community aspires for.
Kasasira hailed the government of Uganda for according Sudanese sanctuary during the 21 year civil war which pittied northers against their southern brothers.  He thanked the chairman of Interchange Uganda, Issa Kirarira, for always being with the Lubengo community at their time of need.  In a few remarks, Kirarira said that if individuals can not be tolerant to one another, then peace may elude us forever.  He promised to mobilise funds for t-shirts together with the Lubengo community team.  He had earler given a token of shs 100,000 for the purchase of a ball for the community team.
In a statement which coincided with this year's Day, the Secretary General of the UN, Ban Ki Moon, said that, "At times of change, we must stay true to the ideas and principles that are at the heart of the United Nations charter and the Universal Declaration of Human Rights. Among those core values is tolerance."
Ban Ki Moon also noted that UNESCO plays a special role in fostering active tolerance by promoting quality education for all girls and boys and advancing a free and pluralistic media.
Article Written By Denis Cox Emuria