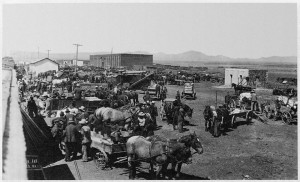 Join us on Saturday February 6, 2016 from 10:30 am – 12:30 pm
At the Ontario Institute for Studies in Education, 252 Bloor St West, Toronto, 7th Floor Peace Lounge
For Rosabel, writing and telling of these stories forms part of her understanding that all of us can, and must, be peacebuilders in our day to day lives. InterChange looks forward to her story sharing, and to exploring together how her work can inspire community-based peacebuilding.
Rosabel Fast has taught Language Arts and Social Studies in elementary schools and written readers for German Mennonite schools in Mexico. She holds two graduate degrees, in history and adult education, with a specialty in teacher education. She applies her passion for, and delight in, engaging learners through the use of authentic, interesting and relevant content, and in creating educational resources for learners and their teachers. Her series Mennonite History for Young People is one of these resources.
Mennonite History for Young People is a series of nine readers that tell the story of Old Colony Mennonites in Russia, Canada and Mexico. The first volume, scheduled to go to press in March, recounts the move of 6000 Mennonites from the Canadian prairies to northern Mexico on the 1920s. Central to the decision to move, was the impact of World War I and the nationalistic climate that followed in its wake, on this group of passionately pacifist Canadians.
Doors open at 10:15am.
Free Event. Donations are welcome.
Light refreshments will be served.
Facebook Page: https://www.facebook.com/events/1045374182173082/