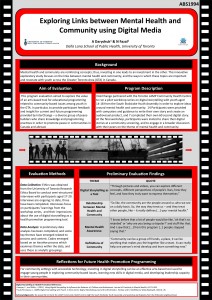 Mental health and community are reinforcing concepts; thus, investing in one leads to an investment in the other. InterChange Toronto partnered with the LAMP Community Health Centre to run a pilot workshop series on digital storytelling with youth aged 14-18 from the South Etobicoke Youth Assembly in order to explore ideas around mental health and community.  These themes were identified by the Community Health Centre staff as relevant to their youth programming, and the facilitators from InterChange agreed that they aligned well with the tenets of peacebuilding being all around us.
Our workshop was advertised 4 weeks in advance of the start date, at the LAMP Community Health Centre and through its social media profiles. After an initial introduction and welcome session, 14 youth signed up for the workshop series.
InterChange facilitators Anthea Darychuk and Nadia Fazal provided participants with guidance to write their own story and create an audiovisual product, and 7 completed their own 60 second digital story. Each person brought their own laptop and used whatever film-making software they had (Windows Movie Maker, iMovie, etc) for the duration of the workshop. This session worked well because each participant had their own laptop and the facilitators did not need to source them from outside. This also dramatically reduced the costs for running the workshop. The workshop series included 5 sessions, covering different storytelling formats, writing a script, collecting images and finally compiling all of the components into a final product.
Mental health can be a sensitive issue, and facilitators were keen to have an open, judgment-free discussion about ideas such as mental illness, mental health, depression and mood disorders with all participants to create a safe space to ask questions and share knowledge. We were careful not to be normative in how the youth approached mental health in their stories, and encouraged them to work with both ideas – mental health and community- in a broad sense.
At the final workshop, participants were invited to share their digital stories at a community screening, and to engage in a broader discussion with their peers on the theme of mental health and community.
In discussions about their experience with the project, participants relayed several positive and promising insights about the project itself and the media used. Some said:
"Through pictures and videos, you can explore different concepts, different perspectives of people's lives, how they feel, and how they truly want to express themselves."
"We can communicate through another way, without words. Talking about mental health is a sensitive topic and my pictures made the theme relatable."
"Community can be a group of friends, a place, it can be anything that makes you feel together like a team. It can really help one person's mind develop and learn something new."
Digital Storytelling with the South Etobicoke Youth Assembly
Reflections for Community practice:
In community settings with accessible technology, investing in the use of digital storytelling is promising for health promotion programming. Digital storytelling can be a powerful arts-based tool which can: engage young people in exploring community-based issues, promote the learning of new skills in digital media, and develop youth leadership capacity. Our pilot project with LAMP showed the value in developing partnerships across diverse organizations (health, education, etc) and how this methodology strengthens community involvement in local peacebuilding. This workshop series captured the spirit of peacebuilding being all around us, as local youth were trained and encouraged to highlight their own understandings of what is necessary for community building and how social actors can positively attend to people facing mental health issues.