November 16, 2013
Reverend Fredrick Muligisa of Kisowera Church of Uganda (COU), has called upon Ugandans to tolerate each other and live together harmoniously if meaningful peace is to be achieved.
Rev Muligisa made the call during celebrations to mark this year's International Day of Tolerance.
The celebrations for the international Day of Tolerance were held at St Anne's Primary School in Lutengo, Nama Sub-County in Mukono District. The day is observed every November 16.
This year's International Day of tolerance was organized by InterChange for Peace – Uganda and supported by the Nile Dialogue Platform (NDP), a non governmental organization.
Rev. Muligisa said that tolerance, especially in families, has a pivotal role to play in building society therefore it is every body's duty to inculcate its spirit in their respective communities.
He added that in order to enhance tolerance in any society, there should be total forgiveness of one another. He said that without tolerance, democracy cannot be realized in any given society.
Sheikh Edrisa Kalule, the Chairman of Lutengo Muslims, said that to have peace in the world, tolerance should be the driving force.
He said due to lack of tolerance, wars and conflict have torn the world apart adding that every God fearing person should often forgive one another.
Issa Kirarira,   who represented Hakan Ulus, thanked the organization for partnering with InterChange for Peace Uganda, in order to make the day a success. Hakan Ulus is the Chairman NDP.
Kirarira noted that if world countries can come together to observe the international day of tolerance, then the occasion should be accorded its utmost importance.
He quoted Mother Theresa (RIP), Bishop Desmond Tutu, Gandhi (RIP) and Fethullah Muhammad Gulen,  as world personalities, who must be emulated by all and sundry because they tirelessly worked for humanity.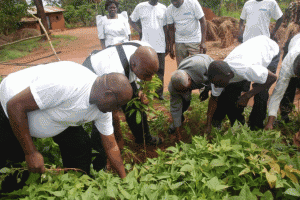 Kirarira also thanked teachers and pupils of St Cecilia Primary School in Lutengo for the inspiring songs they presented to the visitors.
Activities which characterized the occasion included music, dance and also planting of a tree in honour of Prof Anne Goodman, the founder president of Interchange Canada, who died recently of acute cancer. Two other trees were planted immediately after her demise and this coincided with the World Day of Peace celebrations that are marked every September 21.
To crown the day, the Peace team played against Lutengo under 17 in a curtain raiser match under the theme, "Play soccer make peace."
Lutengo A later played against Lutengo B. The match between the two teams ended in a 1-1 draw. Each team was given a set of t-shirts and a football.
The celebrations were attended by religious leaders, members of civil society organizations, students and the general public, among others.
Fethullah .M. Gulen, a world scholar notes that, "While walking towards the future as a whole nation, tolerance is our safest refuge and our fortress against the handicaps that arise from schism, factions and the difficulties inherent in reaching mutual agreement, troubles that lie waiting at every corner."
Gulen added that we should have such tolerance that we are able to close our eyes to the faults of others, to have respect for different ideas and to forgive everything that is forgivable.
He correctly pointed out that tolerance is not something that was invented by us because it was first introduced on this earth by the Prophets whose teacher was God, who has attributes which are rooted in tolerance for instance forgiveness , the forgiveness of sins, compassion and mercy for all creatures and the veiling of shame and faults for others.
"Tolerance can and must be learned. We need to teach girls and boys not just how to live together but how to act together as global citizens." These were the words of the UN Secretary General, Ban Ki Moon, while marking this year's international day of Tolerance. The day is celebrated every November 16.
In 1996, the UN General Assembly, by resolution 51/95 invited the UN member states to observe the International Day of Tolerance on November 16, with activities directed towards both educational establishments and the wider public.
The UN International Tolerance Day is annually observed on Nov 16 to educate people about the need for tolerance in society and to help them understand the negative effects of tolerance.
In this year's statement to the press Ban Ki Moon noted that, "Tolerance is not passive. It demands an active choice to reach out on the basis of mutual understanding and respect, especially where disagreement exists."
According to him, tolerance means recognizing that our diversity is a strength,  a wellspring of creativity and renewal for all societies.
Ban Ki Moon added that tolerance is the strongest foundation for peace and reconciliation and at this time of rapid and often bewildering change.
He however called upon national and community leaders and all those who wield any form of influence through traditional and social media, among others, to embrace tolerance since it is the bond that will unite us on our common journey to a peaceful, sustainable future.
It is incumbent upon all people of good will to struggle towards efforts to live together irrespective of our religious, ethnic and other differences and above all, it is imperative that we embrace the spirit of culture of tolerance.
Download a series of pictures of the day (3 MB)