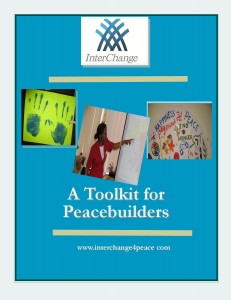 Dear members of the InterChange family,
The last few months have been a very busy time for InterChange and I wanted to let you know some of the things that are going on and to invite you to get involved, if you're not already.
Here are some of the highlights:
PROJECTS
We've been working hard on the following projects:
Building a Culture of Peace inToronto
Toolkit for Peacebuilders
Food and Peace project
You can find out more about all of these on our website www.interchange4peace.org.
There are many ways to get involved, and I'll suggest just a few.
Building a Culture of Peace in Toronto:
propose a workshop
invite InterChange to bring a workshop to your community
 volunteer at a workshop.
Contact community@interchange4peace.org for more information or to get involved.
Toolkit for Peacebuilders
submit your resource(s) to share, using the form printed on the project description
Contact community@interchange4peace.org for more information or to get involved.
Food and Peace:
submit a post about your involvement with Food and Peace
invite Rebecca, project co-ordinator, to interview you and/or attend your event
Contact rebecca.ballen@utoronto.ca for more information or to get involved.
Also watch out for more on a new project, Health and Peace.  Anthea, the coordinator, has posted her initial blog on the website and will be giving more information soon.
COMMUNICATIONS
Website: If you haven't been on our website for a while, I know you'll be pleased to see all the information, messages and ideas. Please read our website and tell others about it, send us your stories and or photos, and feel fee to comment on any of the information online. As usual, we're always pleased to hear your suggestions.
Facebook: Thanks to an infusion of new energy and the recruitment of 2 new administrators, our
Facebook page is very lively. Please check us out at http://www.facebook.com/pages/InterChange4Peace/166030813430244
If you're already a Facebook member, make InterChange your friend and "like" any of our posts.
Also, we would really love to receive news and information from our members all over the world, so please send your postings! If for some reason you can't post things directly, please send them to community@interchange4peace.org and we'll do it!
Brochure: InterChange is developing a new postcard-style brochure. It's posted on our Facebook page, so do take a look and give us your feedback. We intend to print them in Toronto as soon as we get the go-ahead from our members, and we'll send the file to the other local centres to customize for your own use.
TORONTO LOCAL CENTRE
The Torontolocal centre has been very active, with regular working meetings, working on the Building a Culture of Peace project and planning for local events. If you're interested in getting (more)
involved, contact us at community@interchange4peace.org.
We also have 2 key volunteer opportunities:
Local centre Co-ordinator, http://interchange4peace.org/?p=2101,  and
Volunteer Co-ordinator http://interchange4peace.org/?p=2096
You'll find these on our website under the "Get Involved" tab. Of course, there are many other
opportunities, so please get in touch!
We would also love to hear more about the other local centres, so please do send your news.
STRATEGIC PLANNING
Thanks to those of you who responded to the survey and we'll getting back to you with next steps very soon.
ANNUAL GENERAL MEETING (AGM) AND BOARD ELECTIONS
As you've noticed, we've been busy, but we do plan to have our AGM and Board elections soon—likely in
June. More information soon, but in the meantime, please get in touch if you are thinking of running for the board yourself and/or have someone you'd like to nominate.
We look forward to hearing from you all,
Peace & friendship,
Anne