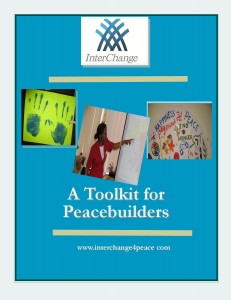 Background and description
In most fields of knowledge and practice, for example medicine, there is an agreed-upon body of knowledge, skills to be mastered and practices to be drawn from. This does not exist in the field of community-based peacebuilding. Peacebuilders don't always know where to look for what they need, or they may be overwhelmed by the sheer amount of information.
At our symposium in Rwanda in 2007 and later at the Facilitators' training workshop in Kenya in 2010,
InterChange members developed the idea of a Toolkit for Peacebuilders which would allow InterChange members to share peacebuilding models, tools and ideas they have found useful. The intention is not to create an exhaustive list of resources, but rather to build our network of peacebuilders by sharing things  we have personally found useful.
We intend to offer the toolkit in a members-only section of the InterChange website. The toolkit will
be an online resource with a searchable function so you can easily find what you're looking for, and there'll also be a format for you to be able to easily print off the sections you'd like.
The importance of the project
We see the Toolkit for Peacebuilders as being key to develop the Vision and Mission of InterChange,
which are:
Our Vision:
Community-based peacebuilders around the world sharing knowledge and supporting one another to
nurture and develop dynamic, durable peace
Our Mission:
To foster and make visible community-based peacebuilding around the world
How to participate in the Toolkit project
Fill in and send back the Toolkit Form with your description of resources you have found useful and think that others would as well. They may be things you and/or your group have developed or they may be resources from elsewhere, but the key issue is that you have personally used the resources and found them useful. You'll be listed as the contact for the resource, and we see the project as being very helpful in building the InterChange network.
As you'll see, the Toolkit Form has 7 different categories, and for each resource, we ask that you identify where you think the resource fits best. You may find that it fits under more than one heading—and
that's fine! If you can't decide what the category is, don't worry—we'll figure it out.
If you have more than one resource to contribute, please use a separate form for each one.
The form is a Word document, so you can use more than the space provided in each section, but
please keep your description brief. We'd like to have short, succinct listings about each resource, with information about how people can find out more. Please include information on how people can contact you, and if possible, send us an illustration or photo of the resource or how you are using it.
What happens next?
The project committee will review all the submissions and decide if they fit into the Toolkit. The
submissions will be edited for length and clarity, if necessary, and the committee might get back to you with questions. The committee is also working on designing the Toolkit and developing the logistics of the members-only website.
And one more benefit…
We believe that sharing resources useful to peacebuilders offers its own reward, but we have an extra
incentive. Everyone who has a resource accepted for the Toolkit will be offered free membership to InterChange for the year.
Please contact us if you have questions or ideas, and of course, we look forward to receiving your
submissions to the Toolkit. We can be reached at community@interchange4peace.org.