The Interchange Uganda Local Chapter, like other peace organizations, celebrated the 16th/Nov/2011 International Day of Tolerance in Lutengo, Nama Mukono District.  During the celebrations many activities took place. These included:
1. Debate on tolerance
2. Athletics by pupils of St Anne's P/S Lutengo
3. General cleaning as part of community service around the office and the football pitch.
At around 3:00pm, a team from the Kampala offices led by Mr. Issa Kirarira arrived accompanied by southern Sudan students studying in different Universities in Uganda. They were welcomed by the InterChange branch coordinator Mr. Lubuulwa Henry and told about the community and the services offered at the office. They also shared experiences on peace, focusing mostly on Southern Sudan as a case study because of the concluded trauma that has been taking place there.
He told visitors the main aims and the objectives of InterChange Uganda and what the office is offering to the community. After this, some visitors were taken by the board chairman to a proposed new site for the community library that will be manned by InterChange. At around 3:30pm we received heavy rain, which to us was a blessing to the celebration and all the peace activists around.
After the heavy rain, all the people who were invited left the office and marched to the football pitch where the main celebrations had been organized and a number of people attended the function.
The chief Guest of the day, Mr. Kasasira Moses L.C.11 Chairman, arrived on time at exactly 4:00pm. The function was officially opened by the Administrator of the Interchange Lutego branch and, thereafter, he invited the board Chairman to talk to the gathering. He stressed much on issues of peace and tolerance and why all people need to be peaceful with each other. He quoted mostly the words from the UN secretary General Ban Ki-Moon.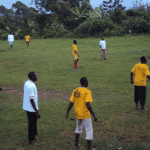 After his speech, he invited the chief Guest who read the message from the Secretary General to the public while interpreting it to the community. After his speech, the officials from Interchange Uganda and the chief Guest went directly to the pitch to flag off the match.The match ended up with 2 goals to 1.
A southern Sudan representative talked and shared experiences of southern Sudan. The board chairman further, on behalf of InterChange Uganda, promised to buy a ball for the team that won.
The chief Guest gave out the trophy to the winning team while reminding the public that tolerance begins with each of us, every day and everywhere. Among those who attended included journalists from the media, civil society, religious leaders, political leaders, the students and the community.
The function ended at around 6:30pm with remarks from the Chief Guest Mr. Kasasira Moses.
Article prepared by Lubuulwa Henry, Administrator, Lutego InterChange office