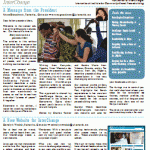 Welcome to the newest edition of InterChange's newsletter!  Our theme this time is: Everyone Can Be a Peacebuilder.
The articles in this edition emphasize that everyone has unique capacities; that problems can be opportunities; that we can help people see their work as peacebuilding and help them join the cause of peace; and that peacebuilding can be learned.
There are several articles about peacebuilding workshops. "Everybody Holds a Peace of the Puzzle", by Um'Khonde Patrick Habameshi describes a workshop that has enabled participants to discover and express their own contribution to peace, as well as to see how individual "pieces of peace" fit together.
Elsewhere in this edition, I report on exciting workshops held in Kenya and Toronto.
Writing from Kampala, Uganda, Umar Weswala describes how peace can begin anywhere and with anyone.  In his story, it is with two children dancing. Umar also describes InterChange Uganda's efforts to educate youth in peacebuilding.
This approach is shared by InterChange Kenya, as is described in the article by Sacramenta Ogina about recent youth forums in Kibera and Langata.
Stories by Charles Tauber and Sandra Maric from Vukovar, Croatia, and by Tor Iorapuu, from Jos, Nigeria, describe peacebuilding and reconciliation in  two very challenging environments.
Our member profile of Zora Ignatovic, written by Rosabel Fast, highlights that Zora's experiences in her war-torn homeland, Serbia, became the seeds for her unique peacebuilding work.
Carolyn Webb describes InterChange's wonderful new website and asks for your feedback and input.
That brings me to remind you that we'd also love to hear your ideas for the newsletter —themes, member profiles, resources, and that long-awaited comic strip from one of our Kenya members!
Thank you to everyone for your continued inspiration. Be well.
Anne Goodman, President
Download InterChange's November 2011 Newsletter – Everyone Can Be a Peacebuilder