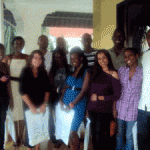 InterChange Uganda has been hailed for its role in incorporating peace into its programmes of activities.
Speaking during a function to bid farewell to a Canadian student, Shannon Davis, the Chairman of Lutengo Local Council, Kasasira Moses Matovu, thanked the InterChange Uganda chapter members for including peace in their list of programmes because there is a lot of conflict in  communities in particular and Uganda in general.
Kasasira Matovu who was the occasion's guest of honour also praised InterChange – Uganda members for the provision of services to the local community. The farewell function which was punctuated with giving of gifts, prizes and a certificate to Shannon, was also attended by members of InterChange and area residents. The farewell was organized by the Lutego community where Shannon volunteered .
Notable among other people who received prizes was a mother of one of the area residents who had a long standing conflict with her son. Both the old woman and her son hugged each other during the ceremony as a sign of forgiveness and forgetting all about their past differences. This was all reached at courtesy of the InterChange- Uganda efforts.
Shannon Davis, who is a student of Peace and Conflict Resolution at Toronto University in Canada, had been in Uganda on an internship with InterChange Uganda .
InterChange Uganda  is a local community based organization with offices in Lutengo village, Nama Sub County, in Mukono District. It carries out a series of activities, some of which include: promotion of peace, conflict resolution, promotion of human rights and helping orphans and vulnerable children (OVC).
Other activities include counseling and guidance, computer training and library service.
Kasasira Matovu urged Shannon to make it a priority for total peace to prevail in Uganda after she finishes school.
He urged InterChange Uganda chapter officials to make Lutengo a model village where the rest of the surrounding communities can come to learn from since they do not have services which the former offers. He urged Shannon to invite other partners including Canada to come to Uganda's rescue since we still have a lot of conflict.
The Chairman of InterChange – Uganda, Issa Kirarira, thanked all the people who attended the function to consider becoming members because their presence meant their commitment.
Kirarira also thanked Kasasira Matovu for having honoured the invitation to attend the function.
He deferred from the earlier claim by the coordinator of InterChange Uganda, Henry Lubulwa, that Interchange Uganda had developed. He attributed much of what their organization has to the good will of InterChange  Canada. The Canadian NGO had aided its Ugandan counterpart with computers and other relevant items.
Lubulwa had in an earlier interview with this writer revealed that InterChange Uganda has intentions to expand on its activities by putting in place a stationary outlet, printer and a photocopier because the area lacks these facilities as well.
He noted that as of now they offer computer training to the community free of charge but only charge some fee for the internet access.
He added that the Lutengo community's response is positive towards the NGO because they have given their children an opportunity to train with InterChange Uganda.
Shannon said that it was a fortune that she worked and associated with both the InterChange Uganda Chapter and the Lutengo community.
She noted in an interview that InterChange Uganda has a brighter future because the members are dedicated and more branches are being opened up in Mukono and Kampala.
She promised to be InterChange Uganda's goodwill ambassador while back in her country Canada.
Article written by  Denis Cox Emuria