The English Circle for Women is a multicultural program that includes teaching English as a second language to over 80 women and 30 children residing in Dorset Park, Toronto. The program was started by a group of 4 women in April 2008 with funding from United Way Toronto and it continues to exist through the support of donor money, Toronto Community Housing's Social Investment Fund, and the Association for New Canadians. Ms. Abeer Ali is the project coordinator and mentor to the community of women in the English conversation circle. Here is Abeer's message about the connection between food and peacebuilding:
"What makes our program unique is that we not only provide women with ESL classes but also educate them step by step with life skills and knowledge about the services we need in our community like housing, employment, banking, shopping, transportation, healthcare, and civic engagement in Canada. The English conversation circle is a space to build long-term relationships between women from diverse cultures and their community; it's a social club where we get to know each other. And food plays an important role in this process. It serves as a source of sharing, understanding, and peacebuilding. For example, the English Circle for Women hosts holiday potluck parties where women come together to prepare food that celebrates the diverse cultures of women. We have already had more than 9 potlucks where everyone brings a dish from their own country or culture. Potlucks allow us to share our recipes, honour our traditional knowledge, and celebrate our community of women through sharing food. We do it in a peaceful way and we try to celebrate with activities such as dance, henna painting, and music. But food is the key, number one ingredient, to bring people together.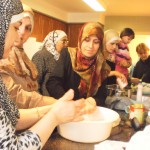 The ladies like to cook together because it shows our personal strengths and this is important to our identity. We are able to reconnect to our homelands and to build new traditions to pass down. For example, at one of our community potlucks at Glamorgan School, more than 500 people attended. These gatherings create an extended family for these women because we are all new immigrants to Canada. Here in Canada, I have no family like back home. So when we all gather to celebrate many occasions, we try to enjoy the moment in a peaceful way. All our kids are playing around us as we cook, and then we eat together.
Through sharing a meal we create new families. It's very important as you miss being with your family in your homeland. You find yourself here in a new country with a new community and new people. When you eat together you feel happy and you recreate moments you missed back home. We're in a circle, in a group of women who are all friends. We support each other. We build a new family. We apply the concept of peace to our relationships."
The Glamorgan English Circle for Women share these sentiments about food and peacebuilding:
"Food is important for our physical and spiritual health. It keeps us in balance and feeling peaceful." "When we are at peace, we want to help other people, the community, and the neighbourhood."             "When we cook together and eat together, it builds a happy community."                                           "Some people don't know how to cook. So when the English Circle for Women makes meals and shares food with our community, people feel at peace with themselves, at peace with their families, at peace with their neighbours, and at peace with nature."                                                                                 "The first step to peace is through the inspiration of these women."
Enjoy these favourite recipes offered by the Glamorgan English Circle for Women.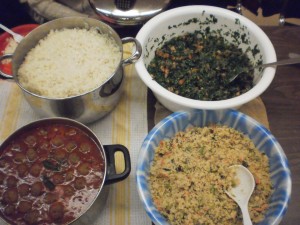 Ms. Seema's Tamil Upma 
Ingredients:
1 cup ruland (semolina)
¼ cup cooking oil
2 dried red chili peppers, broken into pieces
2 tablespoons cashews
1 tsp mustard seed
3 green chili peppers, sliced into thin rings
2 onions, chopped
1 carrot, chopped
1 tomato, finely chopped
½ cup green peas fresh or frozen
red chili powder to taste
salt to taste
2 cups water
½ cup plain yogurt
3 tbsp fresh lime juice or to taste
sprinkle of coriander leaves, finely chopped
sprinkle of coconut, grated
Directions:
Roast semolina until it turns a light brown colour, about 10 minutes, over medium heat. Remove from heat and let cool.
Heat oil in a large skillet over medium heat. Add dried red chili peppers, cashews and mustard seed. Fry about 5 minutes.
Add onions and green chili peppers to the mixture. Sauté until onions are softened, about 5 minutes.
Stir in tomato, carrot, green peas, chili powder and salt. Add water and sauté until vegetables are done.
Gradually pour semolina into the mixture in a thin stream, stirring continually. This is very important. If you add semolina too quickly or do not stir quickly enough, you will get lumps.
Add plain yogurt. Cook and stir until the mixture begins bubbling. Reduce heat to low, cover, and cook 10 to 15 minutes.
Stir lime juice into the mixture. Remove from heat and cool 10 minutes before serving.
Serve garnished with coriander and coconut.
Dawud Basha – Arabic Meatballs
Ingredients:
5 lb lean ground beef
2 garlic cloves, finely chopped
1 tsp pepper
1 tsp salt
5 tbsp vegetable oil
3 medium onions, finely chopped
1 cup water
1 6-ounce can tomato paste
30g fresh coriander, finely chopped
½ tsp cinnamon
¼ cup slivered almonds
Directions:
Mix ground beef, garlic, salt and pepper and shape into small meatballs. Heat oil in a saucepan over medium heat and add meatballs. Fry meatballs turning them over until browned. Place meatballs on a plate.
In another saucepan heat oil, add onions and sauté until lightly browned.
In a bowl, add water and tomato paste, stirring well. Add tomato mixture to the sautéed onions. Add meatballs, coriander and cinnamon.
Bring to a boil. Cover and turn down heat. Simmer until meatballs are done, about 20 minutes.
Heat oil in a small saucepan and fry almonds until toasted, about 5 minutes. Sprinkle almonds over meatballs before serving.
Tabule Arabic Salad
Ingredients:
½ cup fine bulghur (cracked wheat)
3 large ripe tomatoes, diced
4 bunches parsley, chopped
2 bunches green onion, chopped
½ bunch fresh mint, chopped or 3 tbsp dried mint
½ cup olive oil
3 lemons, juice of
1 tbsp salt
½ tsp pepper
Directions:
Soak bulghur in water and drain.
Place bulghur in a large bowl, add lemon juice and mix.
Leave bulghur sitting until water and lemon juice is absorbed, about 45 minutes.
Add remaining ingredients to bulghur and mix well.
Serve over fresh lettuce leaves.